Benjamin Kane's car is a red 1966 Pontiac GTO convertible. The car makes several appearances throughout Wayne's World, usually with Benjamin driving.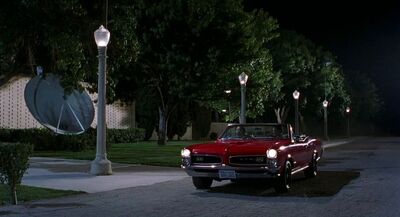 Near the end of the film, Benjamin's arrival at Wayne's house is delayed when he is pulled over by Officer Koharski. This is one of the few scenes where the GTO is seen with the convertible top up.
The GTO's last appearance in the film is when Benjamin arrives at Wayne's house. The same shot of the car pulling into the driveway is seen three times, once in each alternate ending.
The GTO's license plate number is S8U 265.